Matte Painting – To War and Back
This post is also available in: 简体中文 (Chinese Simplified) 繁體中文 (Chinese Traditional)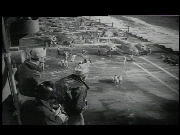 Matte World Digital © 2002
"We had a sign over our barracks: 'Is This Trip Really Necessary?'"

Lou Lichtenfield, matte artist and WW II B-17 bomber pilot
United States participation in World War II with war declared on the Axis powers after the Japanese bombing of Pearl Harbor on December 7, 1941 was the country's last total war, a conflict demanding home-front sacrifices and support for the soldiers risking their lives and spilling their blood abroad.
Hollywood played a major role in the war effort, from creating gung-ho live-action films that hit the nerve of awakened patriotism to producing special animated training films that prepared recruits for combat. But moviemakers also had to deal with domestic shortages, particularly the scarcity of basic materials needed to build sets, making matte painting more important than ever to the success of a production.
Thirty Seconds Over Tokyo (1944)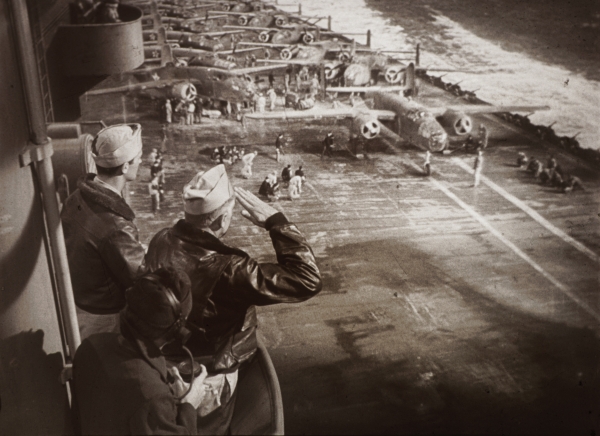 After the disaster of Pearl Harbor and an early string of military setbacks, U.S. morale needed a victory. It got it when Colonel Jimmy Doolittle, a former stunt pilot, commanded a 1942 air raid on the heart of Japan, a daring maneuver at sea in which sixteen B-25 bombers were launched from the deck of the carrier Hornet. The Doolittle raid hit targets from Tokyo to Kobe, and while damage was minimal, Japan was dealt a severe psychological blow.
The MGM feature Thirty Seconds Over Tokyo celebrated the mission's danger and valor. In this scene, an actor playing Admiral William "Bull" Halsey, commander of Carriers, Pacific Fleet, salutes the Raiders as the first bomber (with Doolittle at the controls) takes off from the Hornet. Amazingly, the production never went to sea; this image was created through the magic of Warren Newcombe's matte department. The elements combined in the optical printer by effects cameraman Mark Davis included performers shot on an MGM soundstage (a partial carrier set with three B-25 mock-ups), an ocean element filmed at the studio's outdoor water tank, and a matte painting (the rest of the carrier deck and the squadron of B-25s).
Thirty Seconds Over Tokyo won Warren Newcombe and his department an Academy Award for Visual Effects in 1945.
Since You Went Away (1944)
While most wartime films captured the grit and blood of combat, this David Selznick production celebrated the challenges and stoicism of those left behind on the home front. One of the film's most famous shots was this scene of a young couple saying good-bye at a train station. The matte painting, deftly executed by rookie artist Spencer Bagdatopoulos, provided the dramatic backdrop for the tender interlude performed by actors Robert Walker and Jennifer Jones.
Selznick stalwart Clarence Slifer recalled the making of the scene: "After Selznick got the performance he wanted from the actors, we shot on another set the background of the people and their long shadows. The long, cast shadows were a theme of the film to show sadness, such as here with the boy leaving for the war. The final step to finish the shot was to put in the matte painting of the train station ceiling. That was the first painting Spencer Bagdatopoulos did for me when he came to the Selznick matte department."
https://invisibleart.pro/wp-content/uploads/2022/10/Original-Logo-Symbol.png
0
0
chenfeng
https://invisibleart.pro/wp-content/uploads/2022/10/Original-Logo-Symbol.png
chenfeng
2022-07-31 15:35:44
2022-08-03 11:42:27
Matte Painting – To War and Back